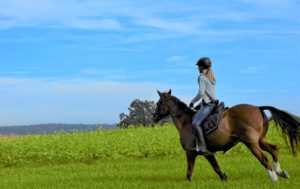 Our horsemanship introduction and riding evaluation session is custom-designed by equestrian experts for beginners age 5 or above who have no or very little riding experience. The program consists of three parts:
An online course that prepares you for your first riding experience, approximately 30 minutes.

A hands-on horsemanship demonstration where you will learn how to take care of a horse.

A

riding session so you can get on a horse and experience it for real!
The total program cost per rider: $65*
* Price includes up to 2 (non-rider) guests per rider, any additional guest's fee is $5/person.
Program Location:
Full Moon Farm, 4326 Louisville Rd, Finksburg, MD 21048
Program Schedule:
Online knowledge-based course for beginners: 10AM on Saturday, August 5 2023
Horsemanship and riding evaluation session: 4-6 PM on Saturday, August 12, 2023
Registration deadline: August 9, 2023
Other important notes:
The horse facility has sanitized helmet available for the evaluation session, but we strongly recommend you bring your own helmet for the regular riding lessons due to COVID concerns.  For questions/assistance about how to purchase a proper helmet please contact us.
Wear long pants and boots with a heel so your feet don't accidentally get caught in your stirrups during a fall.